Alex James - A Bit of a Blur

Alex James in conversation with Miranda Sawyer
For Alex James, music had always been a door to a more exciting life: a way to travel, meet new people and, hopefully, pick up girls. But as bass player of Blur – one of the most successful British bands of all time – his journey was more exciting and extreme than he could ever have predicted.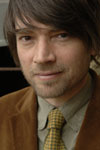 Bit of a Blur is the picaresque tale of one man's search to find meaning and happiness in an increasingly surreal world. Pleasingly unrepentant but nonetheless a reformed man, Alex James is the perfect chronicler of his generation – witty, observant, frank and brimming with joie de vivre.
Alex will be in conversation with broadcaster, author and journalist Miranda Sawyer.
Speaker(s):

Date and Time:

7 June 2007 at 7:00 pm

Duration:


2 hours

Venue:


The Bloomsbury Theatre, UCL
15 Gordon Street
London
WC1H 0AH
+44 207 388 8822
http://www.thebloomsbury.com/
Show map



Organised by:


Tickets:

£7, concs £5

Available from:

Bookings can be made by calling 0845 456 9876
(Lines are open Monday-Friday, 9:30am-6:00pm) or visit
Blackwell, 100 Charing Cross Road, London WC2H 0JG

Additional Information:

Alex says there might be drinks and nibbles
Register to tell a friend about this lecture.
Comments
If you would like to comment about this lecture, please register here.