Your first time at the Lecture List
The Lecture List is a searchable list of public talks taking place in the UK. The list is searchable by speaker, topic, date, institution and region. You can also browse under each of these headings.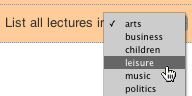 If you're in a hurry to get started, you can jump straight to the "List all lectures" dropdown list in the top menubar (picture)
This will return an unfiltered list of all talks posted in that category with the talks that will occur soonest at the top of the list. You'll want to filter the results once you're familiar with the site. To do that, you'll need to register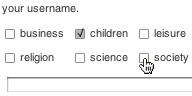 For an even better service, register for a customised version of the site, reflecting your interests (picture) and your geographical area.
As a registered user, you will receive regular emails letting you know about the latest talks that will interest you.
Registered users can also comment on speakers, talks and venues, and take part in online discussions.
The Lecture List will make it easier to make sure you don't miss out on talks you really want to hear.