The Editor's pick:
Thursday 23 November Hormone harmony: hunger and sex Our understanding of how different hormones trigger reactions in the brain...
See more talks like this in: academic / science / philosophy / engineering / biology
Friday 24 November HEROES: Oliver Jeffers meets Brian Cox Artist and children's writer Oliver Jeffers talks to physicist and science presenter Brian Cox on how to make sense of the world for young and old alike. Join us for an event that brings together a wonderful artist and story-teller with a scientist who knows how to tell us how enchanting life already is.
See more talks like this in: arts / art / contemporaryart / groupexhibition / arts
Sunday 26 November Bach, the Universe and Everything - What is Light? The music: It's the end of the world as we know it as Bach explores the Last Judgement with powerful trumpets creating a dark sense of foreboding.
The science: Our guest, on the other hand, brings light to proceedings. Sir John Pendry is a world-leading expert in his field who will explore the elusive question, 'what is light?'.
See more talks like this in: academic / science / science / light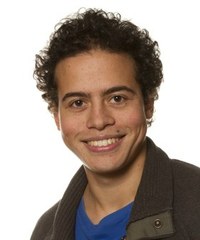 Wednesday 29 November Africa's avian cheats: exploring the deceitful ways of cuckoos, honeyguides and parasitic finches Africa harbours the greatest
diversity of brood parasites on earth, with extremely varied solutions to the
challenge of reproduction.
See more talks like this in: science
Friday 1 December Life Lessons with Simon Amstell Join us for a journey into an outrageous mind. Psychologist Tanya Byron will interview Simon Amstell: a multi-talented comedian, director, and presenter whose inclination towards laugh-out-loud irreverence has routinely delighted audiences across the nation.
See more talks like this in: arts / art / contemporaryart / groupexhibition / arts